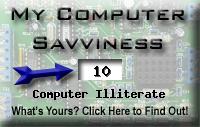 First off, it is official, I am NOT a computer nerd! Coming from a rural, blue collar community, that fact just makes me smile :) I am not computer illiterate, however. I was even named Time Magazine's person of the year for 2006! If you don't believe me, read the article.
Christmas' last dance...it is a sad thought, as I love Christmas and don't look forward to taking down the tree and decorations tomorrow, but Epiphany is almost here. Time to finish the introspective, plan, and get the new year off on the right foot. Also, as Epiphany celebrates the wise mens' discovery of the Christ child, it is time to pause and reflect how my own discovery of the same has impacted my life, or maybe should be impacting it.
Today, the NFL lost a great coach and role model. Bill Cowher, head coach of the Pittsburgh Steelers for the last 15 years, announced that he was resigning so that he could spend more time with family. We've seen it coming for about a year, but it is hard to have it happen. He is a great father, great husband, an excellent role model for the nation's youth, and great community guy. It may sound trite, but the NFL is a huge and widely popular sport. NFL coaches and players sometimes seem as if they are the last ones left in the national spotlight who embrace traditional values who can be widely cheered for doing so. Losing a character guy like Bill Cowher is a blow to that. He was a model of mature masculinity who wasn't afraid to show his emotions, be they tears, anger, or joy. I'll certainly miss him and his (in)famous chin and spittle.
Have a good weekend.